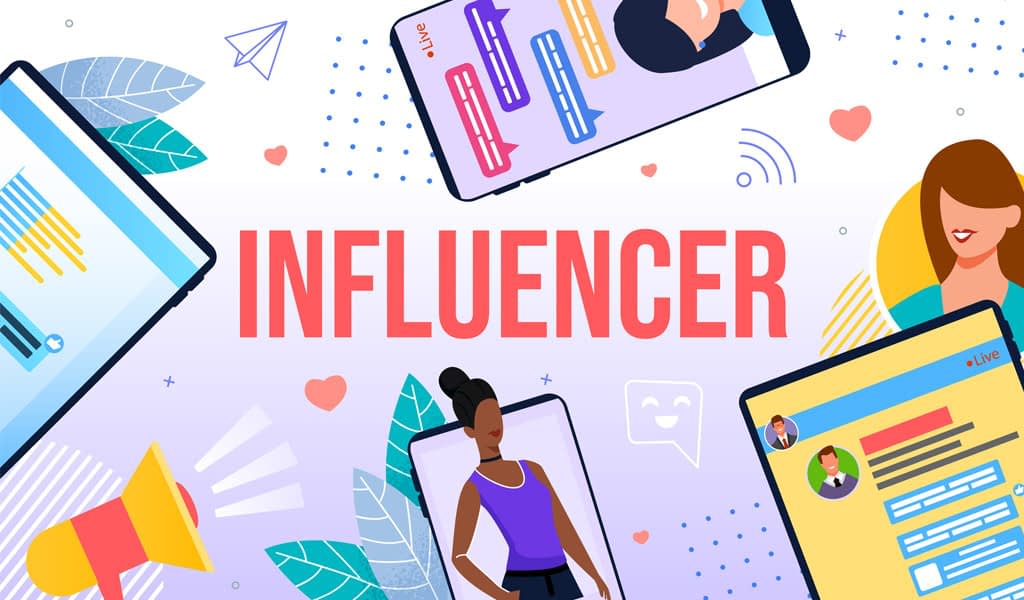 Influencer marketing is hands down one of the best marketing strategies you can use today. In fact, many experts will tell you that it's the single-best method of marketing.
Over the last few years, influencer marketing has become an immense and essential part of the marketing landscape. Anymore, it's difficult to find brands that aren't using it. It's a powerful marketing approach that allows you to reach your target audience in a uniquely authentic way.
Influencer marketing often sounds too good to be true, but the numbers don't lie – on average, for every $1 businesses spend on influencer marketing, they make $18.
You've probably heard a lot about influencer marketing from the countless articles and videos on the subject. But there's a lot of conflicting advice and misinformation out there.
So, we wanted to make one huge guide that would answer all of the questions you might have about influencer marketing.
Without further ado, here is our ultimate guide to getting started with influencer marketing.
Don't wait for someone else to do it. Hire yourself and start calling the shots.GET STARTED FREE
What Is Influencer Marketing?
New to influencer marketing? Confused as to exactly what it entails? You're not alone.
While the term is tossed around a lot, it's not always clear what it means, so here's a closer look at what influencer marketing is and what it looks like.
Influencer Marketing Definition
Influencer marketing happens when a social media influencer works with a brand to promote its products. The influencer typically makes brand mentions and endorsements to help improve brand recognition. In return, the brand compensates them with cash or with free products or rewards. That's a simple influencer marketing definition, but it needs a lot of unpacking. First off…
What Is a Social Media Influencer?
A social media influencer is a person who has gained credibility in a certain niche. There are strains of influencer marketing including YouTube influencer marketing, Instagram influencer marketing, and other social media platforms. The term "influencer" is shorthand for social media influencer.
Social media influencers have devoted followings – people who value their opinions and tastes or who enjoy watching their lifestyle. As such, they affect what their followers buy and can directly influence their followers' purchasing decisions, hence the term influencer marketing.
Since influencer marketing is directly tied to social media, it's often referred to as social influencer marketing or social media influencer marketing.
What Does a Social Media Influencer Do?
A social media influencer causes their followers to make specific buying decisions based on their authority and reputation. Followers consider them to be a close friend than a paid endorser or advertiser, which simplifies the task of promoting a product or brand.
Social media influencers leverage their online presence on different platforms to partner with brands they endorse and create content that changes people's perceptions of those businesses.
The Rise of Influencer Marketing
Today, influencer marketing is a method of choice for top-tier brands around the world, but it wasn't always this way. For a while, it was considered to be nothing more than a passing fad.
However, over the last several years, it's absolutely exploded in popularity.
Influencer marketing first gained serious traction when social media began to replace traditional media outlets. People weren't just following celebrities anymore – they were following non-celebrity social media users who had enjoyable content.
Over time, some of these users gained sizable followings, and while they didn't have the same amount of reach that celebrities did, they had a considerable amount of influence.
Social influencer marketing became a sought-after occupation in its own right, giving rise to well-curated Instagram feeds and picture-perfect Instagram Stories.
Mostly younger-generation individuals with a penchant for internet fame were learning how to become a social media influencer, how to grow a following, and how to join the coveted list of brand influencers selling their service to businesses.
Today, these social media influencers often have as much influence and reach as many celebrities do (and sometimes even more). In many ways, influencers are the new celebrities. Influencers are highly trusted by their followers, and there are tons of influencer marketing statistics that back this up.
In one survey, 49 percent of customers said they relied on influencers for product recommendations.
In another, 74 percent of people said they relied on social media to make purchasing decisions.
And these people usually follow through with influencer recommendations; a survey by Fullscreen and Shareablee found that 42 percent of people who saw influencer advertising ended up trying a product or service recommended by those influencers.
As social media has become increasingly important to everyday life, influencers have grown in importance. A typical social media user consumes a large amount of influencer content; they might see several influencers' posts throughout the day. That's a big reason why influencer marketing has become many marketers' go-to method.
Another appealing benefit is traffic. If you leverage influencer marketing, you'll get engagement on your own Instagram page, which will allow you to monetize your Instagram page more easily. It's truly a win-win.
How Does Influencer Marketing Work?
Let's understand influencer marketing with the help of examples.
When it comes to this marketing strategy , Instagram is arguably the best platform to use as an example because right now, Instagram is used by virtually every influencer in the world. Instagram influencers are everywhere, and it's easy to see their influence in action.
Here are a couple examples of Instagram influencers:
That's Matt King, an Instagram influencer with more than 1.3 million followers. He'll often work with brands to create sponsored ad posts, which are marked with the hashtag #ad.
Here's another example of an Instagram influencer in a different niche:
This page is run by food influencer Jeanine Donofrio, better known to her followers as Love and Lemons. She regularly partners with brands to feature foods, recipes, or food-related services.
Types of Influencer Marketing
Influencer marketing can be done in all kinds of ways. At its core, it's about getting an influencer to share your product or service with their audience, but there are many ways to go about making that happen.
Here are five common influencer marketing methods:
1. Sponsored content
This is one of the most common methods of influencer marketing that you'll see. Sponsored content is simply a social media post that contains an advertisement for a product or service.
Think of it as a celebrity endorsement for the digital age, a hybrid of old and new marketing techniques. The content is shared on the influencer's social media accounts, and there's usually a call-to-action that invites followers to purchase the product.
The two above posts (from Matt King and Jeanine Donofrio) are prime examples of sponsored content. Most often, influencers will post about how they've been using the product or service in question. This kind of personal anecdote works well because it provides credibility and creates trust between the influencer and their audience.
Another form of sponsored content that's becoming more popular is the Instagram shoutout. While this is often a one-off strategy, it can draw lots of attention to your brand, and shoutouts are a breeze to arrange with influencers.
2. Discounts/affiliate links
Everyone loves discounts, and influencer-specific discounts can be powerful. These discounts are tracked using affiliate or referral links.
If a brand doesn't offer a discount, they'll still use referral links to track and analyze the campaign. Discounts are almost always combined with sponsored content.
3. Contests and giveaways
Everyone loves to get free stuff. This is especially true for the audiences of influencers. Why? Because the influencer will only offer products that their followers are highly interested in.
Usually, influencer contests and giveaways draw lots of attention and can reach thousands of people.
4. Publishing influencer content on your channels
Most influencer marketing consists of influencers showcasing products on their channels, but this technique flips that approach on its head.
Instead, the influencer appears on your channels, which often drives tons of social media traffic your way. This can take the form of a single post or a "takeover," in which the influencer has access to a brand's social media channels, usually for a day.
5. Brand ambassadorship
If an influencer is a fantastic fit for your brand, you might consider making them a brand ambassador.
A brand ambassador is an influencer who works with your brand for an extended period of time. This has many advantages because it's a form of long-term influencer marketing, unlike the shorter-term strategies on this list.
There are many other influencer marketing methods, but these are five of the most common. Most brands will employ more than one of these tactics when working with an influencer.
Why Is Influencer Marketing Important?
Influencer marketing can do a lot for your brand. Since influencer marketing breaks many of the barriers that were previously impenetrable, it can help you accomplish some incredible goals.
Of course, when it comes down to it, the ultimate benefit of influencer marketing is to drive more sales. But that's not the only thing it can do for you.
Let's take a look at the benefits that influencer marketing can provide for your brand.
1. Increased sales
Again, this is the ultimate benefit of influencer marketing, but to understand exactly how effective it is, it's helpful to look at influencer marketing statistics.
Remember that businesses earn about $18 for every $1 they spend on influencer marketing.
And for many brands, that number is far, far higher.
The exact figure will depend on how much influencer marketing you invest in and how successful each particular campaign is, but it's clear that the ROI is sky high. (More on that later.)
2. Social proof
No matter what type of business you are, you absolutely need to gain social proof.
As humans, we want to fit in, and that means we often go with the crowd. In other words, we have an innate need to be socially accepted.
By extension, when we see something that other people are interested in, we're automatically interested in it, too. That's the essence of social proof.
This is especially true when it comes to influencer marketing.
Influencers are able to magnify the effect of social proof. Just as you'd trust the opinion of a friend over that of a stranger, followers will trust influencers' opinions more than most other people.
This is arguably the most potent form of social proof, and it's been proven to work with nearly any product in any niche.
Perhaps surprisingly, influencers can have lots of social proof without having a huge audience. Smaller influencers, known as micro-influencers and nano-influencers, often have high levels of social proof even though they don't have millions of followers.
Put simply, whenever you use influencer marketing, you're gaining social proof for your brand.
3. Direct connection to your audience
In order to sell your products on Instagram, you need to get your message in front of your target audience, and that hasn't always been easy.
Influencer marketing practically solves this problem by allowing you to place your message right in front of your customers on a platform that they use every day.
Influencer marketing is also much better than regular social media advertising because the people who follow influencers in your niche are the same people you're trying to target.
Even better, since influencer marketing is super organic, it doesn't feel like marketing, which means people will be more receptive than usual to your brand.
What could be better than getting your products in front of your specific target audience with a glowing recommendation from an influencer? That's what influencer marketing has to offer you.
The Importance of Online Influencers
Influencers play a pivotal role in today's marketing ecosystem.
Influencer marketing is so effective because it's a combination of old and new marketing methods. What influencers have essentially done is taken the celebrity endorsement and updated it for the present day.
However, many influencers aren't super famous. They're everyday people with large online followings, and this is one of the biggest reasons why influencers are so important.
People love influencers because they're not celebrities who are out of reach. Influencers are relatable people with relatable lives.
As we saw before, many people feel that influencers understand them better than their friends do. That phenomenon is unique to influencer marketing.
And the cherry on top is that influencers get personal with their followers. Many influencers engage their followers in comments and even in their content.
This one-on-one interaction creates a positive, long-term rapport between influencers and their followers. As a result, followers trust influencers more over time.
The bottom line: Influencers fill an important space by bridging the gap between celebrities and everyday people. That's why so many brands are investing in influencer marketing more and more.
The Effectiveness of Influencer Marketing
At this point, you know how integral influencer marketing is, and you know that it has a lot of benefits.
Now it's time to dig deeper into the specifics and take a look at exactly how effective influencer marketing can be.
To understand the effectiveness of influencer marketing, we can compare it to other types of marketing.
Many people wonder about influencer marketing versus content marketing versus user-generated content. How does influencer marketing stack up to these other tried-and-true strategies?
You might be surprised to find out that influencer marketing can be more effective than other types of marketing.
But what does that mean for other types of marketing? Let's take a deep dive and find out.
Influencer Marketing vs. Content Marketing
Content marketing is still the top method of choice for many brands and for good reason. It's a proven method with a great track record.
First off, it's worth noting that both influencer marketing and content marketing can be insanely effective and should both be part of your marketing mix.
That's largely because these two types of marketing benefit your brand in very different areas.
Influencer marketing raises brand awareness and generates social proof while content marketing builds authority and adds value.
However, if you really want to get the most out of both of these two very different types of marketing, you need to balance them.
Some brands are reporting that influencer content is performing better than in-house content. In one survey from influencer marketing company Linqia, 51 percent of respondents said that their influencer content outperformed their own brand-created content.
Of course, that doesn't mean that marketers are eliminating content marketing from their strategies. It just means that they're spending more on influencer marketing. Statistics reveal that 93% of marketers use influencer marketing as part of their overall marketing strategy.
There's a lot of synergy between influencer marketing and content marketing, and this combination will only get stronger as influencer marketing becomes more widespread.
Marketers may not be slashing their content marketing budgets to focus on influencer marketing, but it's clear that companies' budgets for influencer marketing are steadily increasing.
Influencer Marketing vs. User-Generated Content
As we've seen, one of the big benefits of influencer marketing is that you can have an everyday person representing your brand. In this way, it's similar to user-generated content.
User-generated content (UGC) has seen increasing levels of use in recent years. On average, 90% of people find UCG helpful when making a purchase decision.
For a while, this trustworthiness was pretty unique to UGC. There weren't many other channels where customers and their peers were able to create and distribute content.
Influencer marketing changed all that by offering something potentially better than UGC.
Since influencers are so relatable and trustworthy, customers' attitudes toward influencer content are similar to their views of UGC.
The key difference is that while UGC can build trust, influencer-created content builds trust and spreads the word. Usually, user-generated content won't have large reach unless you share it on one or more of your channels.
Influencer content also has the potential to be trusted more than user-generated content. Remember that many people feel that influencers understand them better than their friends do. That trust means that people are more likely to take stock in an influencer's opinion over a random person's review or testimonial.
At the same time, UGC is absolutely free and still contributes to your credibility. If you don't have any user content at all, your prospective customers could be scared off.
Ultimately, customers are going to look for both influencer content and UGC when researching products and making purchasing decisions.
Influencer-created content won't completely replace UGC, so don't write it off. Just like the question of influencer marketing versus content marketing, the answer is balance.
Influencer Marketing vs. Social Media Marketing
It might seem strange to compare influencer marketing to social media marketing. After all, isn't influencer marketing just a form of social media marketing?
In a way, yes, but influencer marketing has grown so much that it can be considered an independent form of marketing.
While both types of marketing happen on social media, they have very different approaches and results.
With a branded social media marketing campaign, you control everything. All of the messages you send out are crafted in your brand's voice.
But with influencer marketing, the content is in the hands of the influencers you're working with. They'll bring their unique voices, approaches, and perspectives to the table, and while you'll lose some control, you'll gain attention and likely make some sales.
Influencers also have a lot to offer that you can't get with traditional social media marketing.
For one, you get your brand exposed to audiences who already trust what influencers have to say. Often, these will be completely new audiences who may have never even heard of your brand before.
Overall, social media marketing is still effective, but it can't replace influencer marketing. With influencer marketing, you can easily generate buzz, increase credibility, and hopefully gain new brand advocates and customers.
The Parallels With Word of Mouth Marketing
One of the biggest reasons why influencer marketing is so effective is because it's very similar in nature to word of mouth marketing.
And here's the thing – word of mouth is the most-effective marketing strategy of all time.
Gartner's 2018 small business survey confirmed this, identifying word of mouth as the most-effective channel.
Word of mouth marketing strategies have been a part of every successful campaign ever, whether it was planned or just happened spontaneously. These strategies can take many forms, ranging from publicity stunts to giveaways.
Some well-known word of mouth marketing examples include Sephora giving customers birthday freebies and Wendy's hilarious Twitter antics.
Influencer marketing shares many traits with word of mouth marketing. At the most basic level, a recommendation from an influencer is word of mouth (even though it's sponsored).
Of course, influencer recommendations also cause word of mouth. Once followers are exposed to a product, they'll usually talk about it amongst themselves. They may even buy the product and tell their network about it, creating another iteration of word of mouth.
Even better, the chances for this ripple effect to happen increase every time you partner with an influencer.
Influencer marketing has taken word of mouth marketing and increased its impact exponentially. As a result, organic word of mouth can happen at a much faster rate, drawing more people to your brand.
It's almost impossible to scroll through social media without seeing some form of influencer marketing. Everywhere you look, influencers are showing off their latest snacks, clothes, makeup brands, or candles, and that's just the beginning. From traditional posts to ever-popular Instagram Stories to long videos, influencers are always finding new ways to be sponsored on their favorite platforms.
When it comes to defining influencers, it's important to note that anyone can be an influencer. Like John Maxwell says, "To be an influencer, you have to love people before you can try to lead them." If you have one follower, you have influence. If you get one like on your posts, you're generating engagement. So let's take a moment to acknowledge the aspiring influencers who are growing their following. These people post about their favorite brands and products simply because they love them. Granted, they're probably also hoping for a brand deal in the long run, but at the time that they post, they aren't making any money for their efforts.
It might feel like influencer marketing is a new thing that just became popular recently. Actually, influencer marketing began 15 years ago. PayPerPost, the first marketplace to pay bloggers for branded content, launched to quite a bit of speculation. Since blogs were mainly seen as online diaries, many experts were skeptical that adding advertising or sponsorships into the content would actually feel authentic.
That's a challenge that today's influencers are still facing, but for those who can manage to promote products or services and sound real and authentic while doing so, there are many rewards to be reaped. After all, people want to buy from other people, so when they find someone they like, they're more likely to trust their recommendations.
What Is Influencer Marketing?
Influencer marketing is a way brands can promote their products through endorsements or recommendations from influencers and content creators on the internet. Social media and blogs are home to the majority of influencers, although other creators like podcast hosts can fit the bill, too. Many times, influencer marketing is a part of brand awareness campaigns, but it can also result in plenty of conversions and sales.
While influencer marketing began back in 2006, it has changed a lot over the past 15 years. Facebook and Twitter were just getting started, but Instagram wouldn't join the social media landscape until 2010. When influencers began, they were primarily bloggers who shared stories about their lives and promoted products they used each day.
It's kind of a paradox, but while influencer marketing hasn't changed that much, it's vastly different in several ways. Influencers are still sharing stories about their lives and promoting products they use each day. Now, though, there are many people who are career influencers, earning a living through brand sponsorships. When it began, any money a blogger made through a partnership was nice side cash, but certainly not enough to be considered full-time income.
Influencers today also have so many more options than the original influencers did. There are countless social media platforms to choose from, and there are so many kinds of content they can create. For those who like video platforms, YouTube or TikTok are excellent options. Those who want to share long-form written posts can benefit from traditional blogging or even Facebook. Influencers who want a little of everything can turn to Instagram. While Clubhouse is still a new platform, it probably won't be long until influencers find a way to turn that into a spot for their promotions, too.
Influencer Marketing By The Numbers
Influencer marketing is an incredibly popular marketing tool right now, and for good reason:
Unless you want your company to be left behind, it's time to start exploring your options for influencer marketing. No matter what industry you're in, there's sure to be at least one influencer who fits your needs. And don't be worried if you can only find smaller influencers in your niche, because:
It might sound impressive to want to work with someone who has hundreds of thousands of followers, but don't get caught up in the excitement around numbers that don't really matter. Instead, look for influencers who have active, engaged followings. Influencers with bigger followings tend to have an engagement rate of around 3.6%. Those with 1,000-5,000 followers have an 8.8% engagement rate. That 5% difference means that people are more likely to take an action related to the post about your product. Working with smaller influencers can allow you to be confident that your target audience will actually engage with your sponsored posts.
If you're looking to grow your brand awareness, increase sales, or really get your brand's name out into the world in any way possible, you need to be taking advantage of influencer marketing. You don't see a media value like this with other marketing tactics. The most important thing, though, is to approach influencer marketing strategically, so you do it correctly. Generating this kind of earned media equivalence only happens if you're working with the right influencers in the right niche.
4 Reasons Why Influencer Marketing Will Continue to Grow
Influencer marketing is popular now, but it's not just a trend that's going to fade away. In fact, it's nowhere near done growing. It will continue to become more and more popular over the coming years, so now is the best time to learn about it and prepare to incorporate it into your own strategies.
1. More people are becoming influencers.
While it might feel like there are too many influencers out there, that's actually not the case. As social media platforms continue to grow, there are more opportunities for new people to become influencers.
Some will certainly do this intentionally, while others will simply be sharing about their life and happen to strike up a brand deal with a company they love. Either way, there will be more people growing audiences in specific niches. This means you have a better chance of finding someone talking to your specific ideal audience that's perfect for your ecommerce store.
2. Influencer marketing agencies are growing in popularity.
As with any business strategy or tactic, influencer marketing is becoming standardized. There are now agencies that represent influencers and agencies designed to help brands find the best influencers for their strategy. As business surrounding influencer marketing continues to grow, the marketing itself will also keep expanding.
For ecommerce brands that don't want to dedicate the time or resources to keeping up with influencer marketing trends, these kinds of agencies are a great option. You can still take advantage of the incredible success that often comes with influencer marketing without learning everything yourself.
3. There are more content options.
Influencers began with creating written blog posts talking about their favorite products. Then, social media became more popular and the kinds of content influencers were creating changed. Nowadays, video is perhaps the most popular kind of content for influencers to make when it comes to promoting products. Instagram and Facebook Live, IGTV, YouTube, and TikTok have all shown the incredible power of video.
However, with the growing popularity of podcasts and the advent of audio-only apps like Clubhouse, it makes you wonder what the next big trend in influencer marketing will be. While we might not know that answer, we do know it will continue to evolve. Ecommerce brands can be prepared to take advantage of new, innovative platforms and content by joining these new platforms as they arise. If you are already building a following on a particular platform, influencers will be more likely to want to work with you.
4. Influencers are showing more of their reality.
In many ways, influencers are going back to their roots. In recent years, people have become far more interested in seeing posts that aren't overly edited. They don't want to listen to, learn from, or take advice from someone whose life seems entirely unattainable. Instead, they want to see reality. They want to see influencers make mistakes and have bad days and pick themselves back up again and keep going.
Because of this open transparency, even more people are trusting and following influencers, which means that there are more people to see and buy from sponsored content. Ecommerce brands can now reach even more people when they work with influencers, especially if they're not caught up in showing only the perfect, highly-filtered sides of their life.
Ways Ecommerce Stores Are Using Influencer Marketing
Influencer marketing is working for all kinds of businesses. Big brands work with celebrities to promote their products, and entrepreneurs who are just getting started find a way to work with influencers who are still growing their platforms. Ecommerce stores are using influencer marketing in a few key ways, and if you aren't on board yet, it's time to join.
1. To promote their store.
Promoting an online store is probably the most common and most obvious way that ecommerce brands can use influencer marketing. When influencers are talking about or promoting your brand and products, it's easy for them to provide a link to your ecommerce store. In fact, it's easier than telling someone they need to go to Target or go to "wherever books are sold." Instead, they can add a link directly to your page, which means potential customers are less likely to get lost along the way.
Tip: Create a code or provide influencers with specific links to your page. This way, you'll be able to track and see the ROI of your influencer campaigns.
2. Share user-generated content.
Another great benefit of influencer marketing is having user-generated content (UGC) that you can share. People trust other people more than they trust brands, by and large. However, it can feel like a challenge to find images and content from people outside of your team. When you work with an influencer, you can request the use of their content on your page. Then, you'll be able to re-post their content, which shows your audience the partnership you have with this influencer as well as their images and copy.
Tip: Create a plan for sharing UGC so you can fully maximize the benefits. If you know you're promoting a particular product soon, save your UGC for that product until that promotion comes around so you can have the full effect.
3. Use testimonials from influencers.
Every brand needs more testimonials on their website, but sometimes customers don't think to come back and leave a review or share their experience. When you work with an influencer, you can capture their testimonial and their story. By putting their information on your site as a whole or the page of the product they're reviewing specifically, you can provide more social proof to your potential customers so they feel more confident purchasing.
Tip: Outline what kind of testimonial you want from the influencer at the beginning of your campaign. This is the best way to ensure that they capture all of the content and ideas you want to see in their testimonial.
4. Offer a promotion with an influencer.
Offering a discount when you're working with an influencer is such a great way to increase your sales and ROI on the campaign. First of all, like we mentioned earlier, having a discount code specifically for that influencer will allow you to track their conversions. Beyond that, though, many people will strongly consider making a purchase if they can save some money while doing it. Sometimes that can be the tipping point that really inspires someone to click through to your shop and make the purchase.
Tip: Alongside a base rate, you can negotiate with the influencer to offer them a percentage of each sale made with their code. This can encourage them to be thorough when creating their campaign.
5. Work with micro-influencers.
We alluded to this a little earlier, but working with micro influencers is certainly the way to go, especially for ecommerce brands. Don't be afraid of working with someone with a small following, so long as their engagement rate is significant. If you're working with an Instagram influencer, it can be easy to feel like you need to choose someone with at least 10,000 followers so they can take advantage of the swipe-up feature, but that's not true. That feature isn't a requirement of a successful campaign. Instead, they can use a direct messaging strategy that allows them to rely on the connections they've built with their small following to encourage them to learn more or buy.
Tip: Always look for the engagement rate on their posts. Sometimes influencers with big followings have gotten to that point by buying instagram followers. These bought followers tend to be fake, which means they aren't going to engage with the campaign or purchase your product.
How To Build An Influencer Marketing Strategy
Now that you're ready to incorporate influencer marketing into your overall marketing plan, it's time to start with a strategy. Like any good marketing tactic, building a strategy can ensure that you're being thorough and methodical. You'll know exactly what you want to get from influencer marketing and you'll have a process for measuring it to see your progress along the way.
1. Document your goals and key performance indicators.
Any good strategy begins with goals. When you're thinking about influencer marketing, there are a number of goals you could have for your campaign. While the most obvious is probably making sales, working with influencers can do more for your brand than just create sales in the moment. Here are a few goal ideas:
Building Brand Awareness
Working with influencers means your brand's name is getting in front of thousands of people who may have never heard of it before. They're learning about your brand from someone they trust, which means they're going to be more ready to learn about your company or follow you on social media.
Attracting A New Target Market
If you're looking to change your ideal customer a bit, there's no better way to do so than working with an influencer. Be advised: it will probably take a little more work on your end to explain to the influencer why your brand is right for their audience. Influencers are often protective of their audiences because they've worked hard to grow their following and earn their trust. However, if you work with the influencer to create a strong campaign plan, they can help you reach a new market.
Facilitating Lead Generation
Finally, influencer marketing can help you get more leads and customers. Depending on what you sell, you might want your influencer partnership to move their followers toward a nurturing campaign so they can get to know your brand better. Or, you could send them directly to your e-commerce shop to start making sales.
Once you know what your goal is, it's time to identify your key performance indicators, or KPIs. These will be the metrics you'll track throughout your campaign and analyze when it's over to see how well your campaign did. If your goal is brand awareness, you might want to track visits to your website or followers on social media. If your goal is lead generation, you'll want to track sign ups for your nurturing sequence. Sales can easily be tracked with unique links for influencers or a special promo code.
2. Understand the influencer landscape.
Before you really begin working with influencers, you'll want to take the time to actually understand the landscape. Know the different types of influencers — we've talked a lot about micro-influencers, but there are also macro-influencers and celebrities. By and large you'll want to avoid celebrities, as their following is so big that their engagement rate is very low, but their rates are often quite high.
Take some time to observe influencers and see how they promote brands before you look to pitch your brand to anyone. This will ensure that you're more well-informed and that you can make a bigger impression on the influencer.
3. Connect with influencers.
Once you're confident that you know what you're doing, it's time to connect with influencers. There are many different ways you can find influencers that will work for your brand, but you'll want to start with looking to others in your industry. Not only will you discover who your competitors are working with, but you'll also see what size influencers they're targeting. Then, you can make a decision about whether you want to look for people with a similar-sized following or something different.
Depending on the platform you're looking to promote on, you can find tools that will help you identify influencers in your niche. InfluenceGrid helps you find TikTok influencers, and Awario helps you find influencers on a variety of platforms. But you don't have to use tools like this to find influencers. You can also search through hashtags to find people making #sponsored posts. From there, you can look through their audience and see if that resonates with you.
You can also start with your followers. Click on a few of the people who are already following your brand. Scroll through the other accounts they're following and see if you can find any influencers there. This is a great way to find someone who is already targeting your ideal audience.
Wrapping Up
Influencer marketing is here to stay, and it's only going to grow more in the coming years. Ecommerce brands can truly benefit from working with influencers, no matter what their goal is. Influencers can help you grow your following, make sales, or simply get the word out about your business. No matter what, today is a great day to start creating your influencer marketing strategy.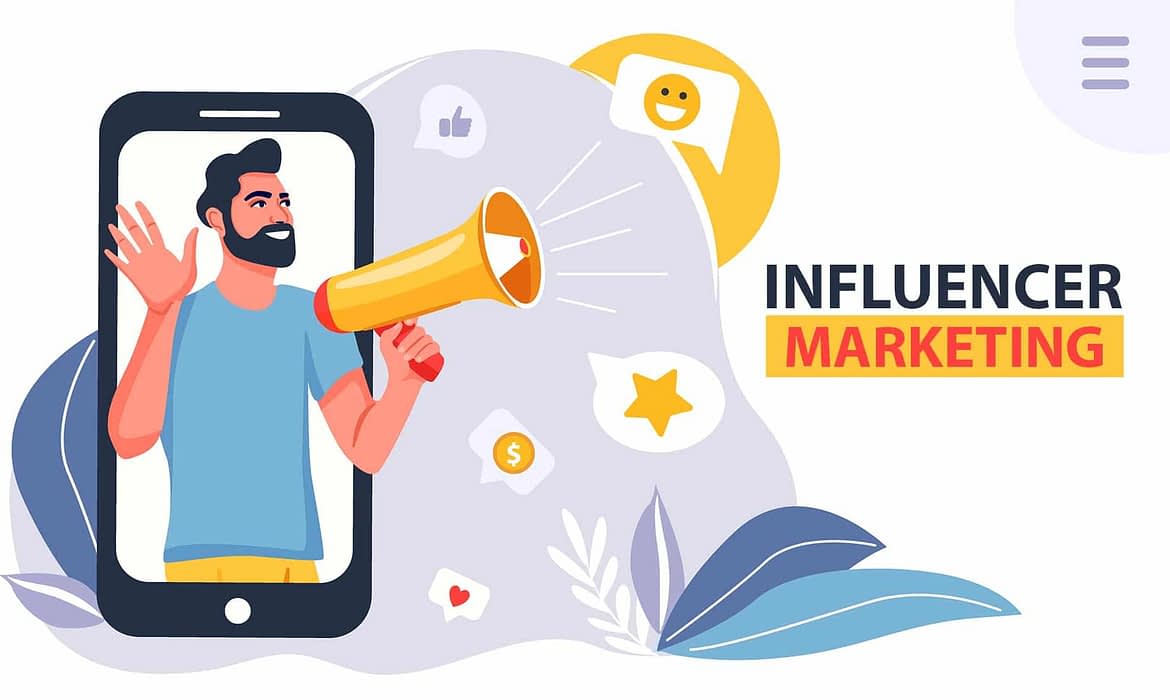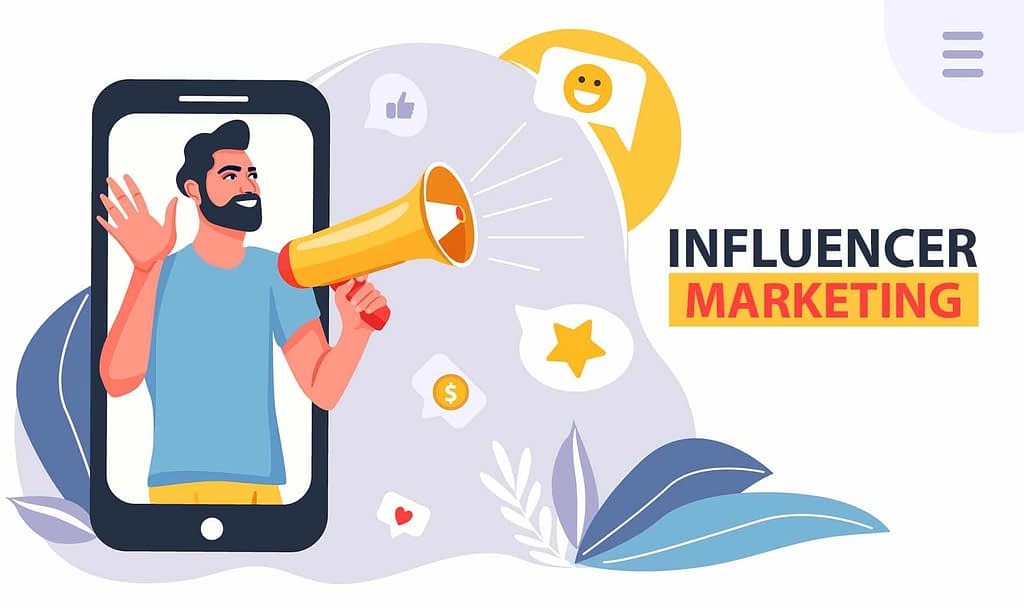 What is Influencer Marketing?
Influencer marketing involves a brand collaborating with an online influencer to market one of its products or services. Some influencer marketing collaborations are less tangible than that – brands simply work with influencers to improve brand recognition.
An early example of influencer marketing involved YouTube celebrity PewDiePie. He teamed up with the makers of a horror film set in the French catacombs under Paris, creating a series of videos in which he underwent challenges in the catacombs. It was pitch-perfect content for PewDiePie's 27 million subscribers and received nearly double the views as the movie's trailer. Everybody won.
That's a simple example. It's easy to imagine a celebrity teaming with a company to pitch a product—even if the pitch is a series of 10-minute videos instead of a 30-second television ad.
But people wouldn't be talking about influencer marketing—you wouldn't be at a website called the Influencer Marketing Hub reading about it, either—if it didn't have a much broader set of applications. And the key is in that word, influencer.
Influencers, unlike celebrities, can be anywhere. They can be anyone. What makes them influential is their large followings on the web and social media. An influencer can be a popular fashion photographer on Instagram, or a well-read cybersecurity blogger who tweets, or a respected marketing executive on LinkedIn. Within any industry, there are influential people—you just have to find them. Some will have hundreds of thousands (if not millions) of followers. But many will seem more like ordinary people. They may only have 10,000 followers, less in some cases. Yet, they will have developed a reputation for being the experts in their field. They are the go-to people who provide the answers to people's questions. Depending on their sphere of expertise, they are the people who make the most engaging social posts on their specialist topics. They share the best pictures, make the most entertaining videos, and run the most informative online discussions.
Influencer Marketing Statistics
Influencer marketing is expected to grow to be worth $13.8 billion in 2021.
Businesses are making $5.78 ROI for every $1 spent on influencer marketing.
There has been a 465% increase in searches for the phrase "influencer marketing" on Google alone since 2016.
90% of survey respondents believe influencer marketing to be an effective form of marketing.
67% of brands use Instagram for influencer marketing.
1360 Influencer marketing focused platforms and agencies entered the market in the last 5 years alone.
What works in Influencer Marketing
Carefully consider your approach to influencer marketing
Be organized, put together a strategy, plan, and budget, spend time on research
Decide on your approach to finding influencers – find them organically, subscribe to a platform, or work through an agency
Be patient and be human – people talking to people, not companies talking to companies
Develop a schedule
Does the influencer prefer monthly/quarterly/biannual calls or newsletters?
Integrate with your PR schedule, product release schedule, etc.
Send emails on behalf of key executives. Plan travel schedules for executives and arrange face-to-face meetings